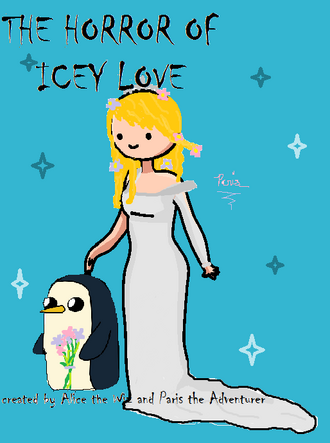 The Horror of Icy Love is an episode of AT: What Time Is It, written by
Alice the Wiz
and Paris the Adventurer.
About
Paris has trouble on her hands when Ice King thinks she's a princess and tries to marry her!!! EWW!
Characters
Ice King
Paris
Isabella
Finn
Jake
Marceline
Marshall
Lady Rainicorn
Gunter
Story
one day at the Ice Kingdom.....
Finn: FOR THE LAST TIME ICE KING! GIVE US BACK OUR SANDWICHES!!!
Ice King: AWW CMON!!!! Its not like Im stealing a princess!
Jake: TOO BAD! CUZ ITS JUST LIKE THAT!!!
Kicks IK in the face
Paris: I'll get the sandwiches! HIII YA!!!!
Punches IK and grabs sandwiches....
Paris: HAHAHAHA!
Ice King (wakes up and soon....BLUSHES???): Gunter....who was that beautiful princess?
Gunter: wank wank???
back at the WCC....
Isabella: GLOB these sandwiches are AWESOME
Finn: Ikr? Jake make them....from MEAT MAN
Jake: No I didnt! We agreed that it was hurtful to take Meat Man's meat. So I used Wildberry Princess's meat.
Finn: uh ok.
doorbell rings...
Paris: I'll get it!
opens door....
Paris: Oooooh its a love letter!!! For...ME???
Marceline: From who?
Paris: doesnt say. But it does say this:
My dear princess, oh how your hair is so beautiful. Please meet me at the Ice Kingdom tonight
-Secret Admirer
Paris: Um...but Im not a princess...i DID try really hard to make my hair look pretty today though..but..and at the ICE KINGDOM???? This is weird
Isabella: Well, you've always wanted to be a princess so why not?
Paris: good point. Princess Paris DOES have a good ring to it. OK THEN :)
Isabella: GREAT! Me and Marceline will help you make a dress.
Marceline: Ugh, do I have to?
Isabella: DO IT FOR PARIS!!!
Marceline: Fine
after some dress making time and junk....they head to the ice kingdom!
Paris: I wonder who this guy is....
Isabella: Yeah, but its still weird that its at the Ice Kingdom
Ice King: She's here! (walks toward her) Hello m'lady
Paris: WHA!?!?!? ICE KING WHAT THE LUMP R U DOING HERE!?!?!?! IM WAITING FOR MY SECRET ADMIRER NOW GO AWAY U PERVE!!!
Ice King: Excuse me but um, I AM YOU SECRET ADMIRER
Paris (too shocked/mad/angry to speak):.........
Marceline: awkward....
Isabella: PUNCH HIM!
Paris (in so much anger): IM GONNA KILL YOU YOU BIG PERVE IDIOT!!!!!!!!!!!!!!!!!!!!!!!!!!!!!!!!!!!!!!!!!!!!!!!!!!!!!!!!!!!!!!
Ice King: GUNTER! you said that she was going to like the love note!
Gunter: wank wank wank?
Paris punches him
Ice King: *lightning bolts* HOW DARE YOU PRINCESS! IN YOUR CELL!
Paris: No! Not even for a unicorn!
Ice King: How about a unicorn? AND A COOKIE?
Paris: deal.
LATER...
Paris: we didn't even shake on it!!! (in cell)
Ice King: You WILL marry me! Or i will destroy your unicorn AND your friends Finn and Jake!
Paris: You forgot the others--
Ice King: THEM TOO!
Gunter: wank wank wank. wank!
Ice King: Oopsies i gotta use the potty room! Gunter get the princess pretty for the wedding!
Gunter: wank wank
Paris: hey can i design my own dress..juss wundrin'....
Gunter: (stares)
Paris: fine. be that way.
Gunter turns out to be an AWESOME fashion designer and makes a beautiful weddingdress
Paris: Thanks Gunter-- *whispers* Where thhe flop ARE they!?
(at WCC)
Marceline: What do we do???
Isabella: whatever- she needs a boyfriend..
Marshal lee:we could.... gather an army of fire wolves and train them to attack Ice King
Marceline: i dunno--we could get burned!
finn: OH OH! lets make a model of Paris and THEN ice king will get distracted and we punch his lame guts!
Jake: we'll need lady rainicorn to make it....and a jelly donut!
(lady makes a model of paris and jake eats the jelly donut)
marshal: Oooooh!!!!! can i have the jelly???
Jake: yeeeeaaaaaaah, here
(lady is saying: all done!)
lady:모두 다
jake:thanks lady i owe you a trip to the witches garden!
lady giggles while they get the model to the ice kingdom..
Ice King: look gunter! my beautiful bride!
Gunter: *slaping penguin* wank?
Jake imimates paris' voice (sucks at it..:P)
Jake/paris' voice: hey ice king whats happening baby cant wait to get party this started!
Ice King: You are very beutiful princess paris of the UNI-corn VERSE
Jake/paris's voice: haha.ha.ha your so cool (gunter notices paris hiding in cage)
gunter: WANK! WAAAANK!
Ice King: Gunter no cake for you lil' fatty--what-what are you--PRINCESS!?!?
Paris: 0_0 ummm...HAHHAAHHAAAAAAHAHA!! *rolls over laughing* sorry i cant help it! HAHAHAAAHAHA!!!
Marshal:seriously! *whispers*
Jake:i got this man! *whispers* IMPOSTER! PHONY MC PONY!
Ice King: Get BOTH paris's AND TIE THEM UP FOR THE WEDDING!!!
Marshall: NO WAY PUNK!
Ice King kicks marshal in the face and zaps his arm,but marshal cuts half of his beard and he looks like a loser
Ice King: WHY DID YOU DO THAT!!!??! Now the princess will never marry me!!
Finn: she never wanted to bubble butt!
Ice King lowers her anyway but jake throws gunter in front of the beard!
Gunter; wank wank!
Ice King: Gunter! i married a penguin!?!
Jake: Hehe, LIKE U MARRIED ME? :D
Paris punches ice king in the stomach then hugs him for calling her a princess then slaps him
They leave and ride on the unicorn
Marshal: nice.
Paris: i never got any cake!! grr...
Marceline: I wonder how Ice King feels though
Finn: He deserves it for being a glorb!
Marceline: Yeah your right.
Ice King: *on the floor with crown off* gunter i remeber a name..But--who?
Gunter :*eating the wedding cake* waaaaank?
Ice King: I wonder who BETTY could be...
THE END
Trivia
It is strange that Ice King has not fell in love with Paris before because she has fought him many other times. Though this could be the first time they met.
Concept Art