Cookie Surprise is a season one episode that features Marshall Lee's birthday.
Plot
The cookies have gone missing for Marshall's birthday, and it's up to the gang before the party.
Characters
Marshall Lee
AK1
Paris
Marcelina
Alice
Runa
Booboo
Isabella
Aaron
James
Silverbane
Kitten Princess
Molly (debut)
Cathy (possible debut)
Fionna
Jared
Prince Gumball
Cake
LSP
Story
It was a normal day at the WCC-other then the most important day of the year. Marshall's Birthday.
Alice: OMG OMG I CAN'T BELIEVE HIS BIRTHDAY IS TOMORROW!!!
Paris: IKR! And we got to make the sweets! We should make brownies-no cookies. HOW BOUT BOTH!
Silver: hey Isabella, Jared is coming to the party.
Isabella: Really?! *sigh* he's soooo dreamy! Aren't his eyes just so beautiful!!
Silver: Uh yeah.. *backs away slowly*
Marcelina: Anyway, where is Marshall?
Alice: AK1 took him to an epic roller coaster thing for the day.
Runa: OH MARCYIA CAN WE GO?!? That sounds so much fun!!!
Marcelina: SHHHHH!!! No!
Aaron and James come in with decorations*
Aaron: ugh, do we really have to deal with these decorations? I got more important things to do.
Isabella: Sure you do...
Aaron: whatever, I'll be working on my present for Marshall. It's going to be the best!
James: is it another card wars deck like you always give to people?
Aaron: umm no
Alice/Paris: NOOOOOOOOOO!!'!!!!!!!
Booboo: WHAT THE GLOB??? What's going on?! I already hear enough of your voice at home Alice!
Alice: well, EXCUUUUUUSE ME BOOBOO! but um.....
Paris: THE COOKIES ARE MISSING!!!!!!!!!!!! CALL THE POLICE!!!!! SWAT TEAM!!!! ANYBODY!!! *crying*
Silver: what? Just make another batch!
Paris: *grabs Silver by the shirt* YOU DON'T UNDERSTAND! These cookies take FOREVER to make and we've been struggling to make them PERFECT! Now our masterpiece is gone. GONE!!
James: you guys are overreacting. They're probably right there but you just don't see it. And who could've took the cookies?? We're the only ones here.
Marcelina: hmmmm I only suspect everyone
Paris: *wipes off tears* YEAH!!
Runa: the trolls could've took them
Isabella: the WCC is troll proof tho or something. Even wikia contributers can't come in here
Alice: I'll call AK1 to see what's goin on with him and Marshall "Yo AK, how are you and Marsh doing?"
AK1:great! I feel a little sick from these coasters tho. But Marshall is having a blast! How's it going there?
Alice: not so great. The cookies that me and Paris have been working on have been stollen.
AK1: who would steal them though? I think you just lost them
Alice: UGGGH well do you know who's coming to the party tomorrow?
AK1: Jared, Kitten Princess, Fionna, Cake, Gumball, and some guards I hired from the Candy Kingdom to watch out for trolls. Plus you guys.
Alice: darn thats a lot of people, well we'll try to get the cookies back. Bye
Paris: this. Can't. BE. HAPPENING!!!!
Isabella: don't worry, well get the cookies back.
Paris: WE BETTER. SOME OF YOU SHOULD SLEEP WITH AN EYE OPEN TONIGHT...!!!
Runa: How tho?
Isabella: Lets go around Ooo and Aaa for suspects.
Marcelina: WE KNOW YOU DID IT LSP!
LSP: Oh mah glob get the lump outta mah house guys! what the lump are you even talking about?
Silver: we're trying to figure out who took some cookies for Marshall's birthday party
LSP: PARTY?? Why wasn't I invited?? Anyway, I saw some chick with some sweets earlier today at this lumpin' forest.
Alice: hmm ok. Lets go
Paris: Is this even the right forest? LSP wasn't so specific on what forest.
James: Great, I'm calling the animators.
Booboo: Wait! I think thats the girl!
Runa: GET HER!
Runs over and tackles the girl*
Paris: Hey I'm supposed to do the tackling!
Girl: AHHHHH STOP IT!! GET AWAY FROM ME!!!!
Marcelina: RUNA! get off her! those aren't Marshall's cookies!
Girl: Ugh, my head hurts...what was that for?!?! Wait--did you say Marshall Lee? Marshall Lee the Vampire King?
Marcelina: Uh, yeah
Girl: I know him! We were friends a long time ago. You better not be messing with him!! Because I think his birthday is tomorrow.
Silver: Yeah, well we're trying to find cookies for his birthday party.
Molly: Cookies huh? I dont kno of any cookies here, sorry. But if you dont mind, can i come to his party? I bet he'll be so happy to see me! Oh yeah, I'm Molly By the way.
Alice: Sure! But only if you help us.
Molly: After you tackled me? I don't know, but if it means seeing Marshall again then I guess
James: now what. I say we go back to the WCC and find some clues.
Paris: good idea!
Molly: Is this like your clubhouse?? Cool.
Isabella: yep, some of us live here actually.
Silver: we better hurry up guys, the party is in a few hours.
Alice: I say we check the Kitchen.
Booboo: you guys might wanna see this...
Runa: FOOTSTEPS! With flour...
Molly: Looks like sneakers
James: Okay, who's wearing sneakers??
Paris: um, nobody
James: Darn it
Runa: *yawn* MARCYIA I'm tiiiiiirred!!!!
Marcelina: for the first time, I actually agree. We've been searching all day just make more cookies
Silver: I agree too
Alice: WHAT?! NOOOOOOOOOOOOOOOOOO WE CAN'T GIVE UP
Paris: yeah!! come on guys!
Isabella: Sorry but AK1 and Marshall are gonna be back in hmm....*checks watch* AN HOUR!!!!! JUST MAKE THE COOKIES HURRY!!!
Aaron: Hey guys I'm back. How's it going?
Alice: not so good. We lost the cookies and had to make just plain ol' regular ones
Aaron: Pfft, whats the difference? Anyway, I just got back from getting Marshall's AMAZING present.
Paris: Ooooh what is it??
Aaron: you'll see
Booboo: Uhhh guys, I dont wanna freak out or anything but....MARSHALL AND AK1 ARE BACK!!!!!
Molly: QUICK! HIDE!
Everyone hides, until Marshall comes in...*
Marshall: *talking to AK1* haha so I said "why did you even buy the rabbit if it was just going to--
Everyone: SURPRISE!!! HAPPY BIRTHDAY MARSHY!!!!!!!!!!!!!!!!!!
Marshall: Oh my glob.....guys, you didn't have to do this!
Molly: But we did! :3
Marshall: Molly? Is that you? Wow this is amazing! Thanks guys :)
AK: Enough chat! Lets PARTAY!!
Party god in da background, and party bears DJ and dance*
AK: *whispers to Alice* Did you ever find the cookies?
Alice: Unfortunately, no. We made some more, but it isn't the same.
AK: Aww its fine, its over with now so just PARTAY!!!!!
Alice: haha ok.
Cathy: HII GUYS!!!
Paris: Hey Cathy!!!
Cathy: Look what I made for Marshall: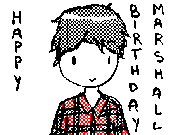 Molly: Wow thats cool!! I'm Molly!
Cathy: Hiii